Prayers That Move Heaven Masterclass
NOW MORE THAN EVER, THE WORLD NEEDS YOUR PRAYERS!
This course is the ultimate guide to mastering the art and science of effective prayers.
Discover How to Move Heaven on Bended Knees and Get Your Prayers Answered 100% of the Time! Now is the time to beseech the Throne of Grace for Big, Bold, Blessings, and Miracles to help in our Great Time of Need. Your family, community, and the world needs you now!
I think you'll agree, that none of us could have predicted 2020 would be this way and that we'd be on lock-down for this long.
So far, this year has dashed many dreams and hopes and robbed many of their resiliency and faith. But what can we do?
With this reality in mind, I think it's safe to say that there are some problems and situations in life where we need more than expert advice...
... We need divine intervention!
This course will arm you to join forces with like-minded intercessors from around the world in united prayer and fasting.
Will you join the ranks my friend?
Who does not need prayer at such a time of this?
Yourself and family
Your community and nation
Healthcare workers and first-line responders
Small businesses and the economy at-large
Families who have lost loved ones because of COVD-19 and those who WILL lose loved ones due to the Coronavirus.
Places of worship and charity organizations
Those most vulnerable and may not have loved ones to help them out
In fact, the whole world needs prayer right now!
So how about it my friend?
Will you lend your voice and heart to beseech the throne of Almighty God on behalf of humanity?
Then rally around your home or office and let us all pray with united hearts for divine mercy, grace, hope, health, healing, restoration, and blessing during these trying times.
It's time to master the art and science of effective prayers and begin praying for big, bold, blessings, and miracles in your life, family, business, or ministry.
It's time to unleash another world-wide revival on our knees.
It's time to intentionally seek for the outpouring of God's Holy Spirit in latter-rain power.
It's time for God's faithful sentinels to activate their authority and enter their secret closets to tap into God's Unlimited Supply and Power.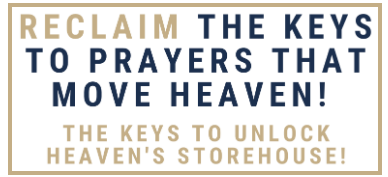 If that's alright with you then enroll now in Prayers That Move Heaven – How to Get Your Prayers Answered 100% of The Time. 
It's the ultimate guide to teach you the art and science of effective prayers. You read that correctly! Your prayers can be answered 100% of the time when you unlock the secrets of moving heaven on bended knees. You don't have to keep feeling frustrated and disappointed because your prayers seem to just bounce off the ceiling. No need to give up and doubt God's ability to intervene in your life. Change all that today. Take the course now. Get a copy of the book (with other bonuses).
W. Clement Stone once said, "Prayer is man's greatest power." Then you're one step closer to discovering and mastering the secret art of the greatest work mortals can engage in when it comes to changing their lives and the world!
Do you need a breakthrough?
Do you want to turn around a failing business or ministry?
Do you long for your spouse to change and love you more?
Do you desire to have your mind, body, and finances healed?
Do you want to see your children on the straight and narrow path?
​Then enroll in this course today and you'll also get access to a FREE copy of the actual book (Prayers That Move Heaven), complimentary bonuses, and a Private Facebook Community of Intercessors who will pray for you and where you can pray for others. (Priceless!)
Enroll now if you can relate to any of the following:
Anyone who wants to experience God in a new and personal way.

Anyone who wants to experience dynamic answers and breakthrough prayers in your life, career, business, and ministry. 

Anyone who wants to eliminate frustrations in your prayer life.
However, it is NOT for: 
Anyone who dislikes prayer. 
Anyone who is simply content with your current prayer life.
Anyone who doesn't sense a need for God and more in your life.
And, as a "Thank You" for enrolling in this course today, you'll enjoy these extra complimentary bonuses on the right. Waste no more time. Heaven is waiting to hear from you. Lets get started.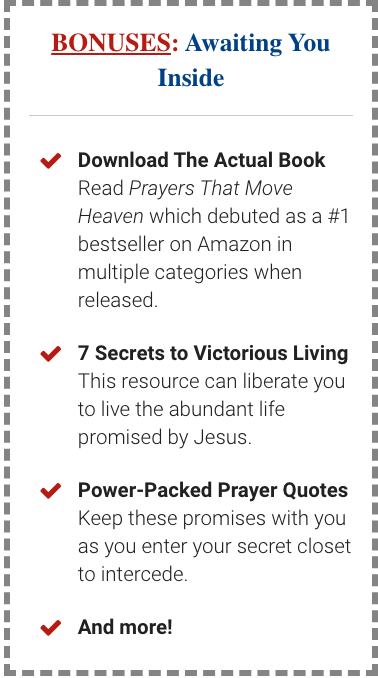 ABOUT YOUR INSTRUCTOR
US Navy veteran, #1 Bestselling Author, speaker, minister, and implementation strategist. He helps professionals, entrepreneurs, ministry leaders, and success-minded believers to make a lasting impact and sustain their kingdom mission, message, or cause.
I'm a product of prayer and believe in the power of prayer. In fact, my motto is, "prayer is a heaven-ordained means of success. Prayer moves heaven!" Let me share divine secrets to effective prayers so you can live a life of blessings and miracles.
Having traveled to over 26 countries, including Zimbabwe, Madagascar, Botswana, Mozambique, Zambia, Liberia, Suriname, Kenya, Tanzania, and Ghana, I've witnessed explosive kingdom expansion birthed on bended knees. By God's grace, we've been blessed to impact thousands of lives each year. Now it's my goal is to educate, equip, and empower kingdom-minded visionaries like you, with Strategic Secrets — master keys to success in life, business, or ministry. 
Friend, it's your time to shine. It's time to boldly claim and receive the boundless resources of Omnipotence --- to be, do, and have all that God has for you. Enroll now and I'll see you on the inside where I've got some amazing bonuses and a copy of my book waiting for you. Be blessed.